The People's Pledge Congress
Dounne Alexander MBE features with an explosive line up of 20 keynote speakers.


Free Tickets available to Joining Hands In Health supporters.
The People's Pledge invites you to come and take part in panel discussions and 'live' debates for 'a referendum on EU membership' - on Saturday 22 October, at the 2,000 capacity Westminster Central Hall (London).
This major one day congress, will be the biggest gathering in support of the right of the British people to decide if they want to continue being subject to EU law and decision making. 'Joining Hands In Health' founder - Dounne Alexander MBE. FRSA. with her no holds barred approach, will give her personal account of the detrimental impact if we stayed in the EU, plus explains why she is calling on the nation to sign petition 'The Nation Speaks - No Not In My Name' and 'The People's Pledge'. Other speakers include former Labour and Tory Minsters Keith Vaz and David Davis; plus MPs such as Kate Hoey, Zac Goldsmith, Priti Patel, John Cryer, Dan Hannan MEP, who (like Dounne) has been fighting to block EU directives restricting alternative medicines. Also, Marta Andreasen MEP, the Spanish former chief accountant of the EU who was sacked by Neil Kinnock, after she revealed massive corruption inside the European Commission. The People's Pledge www.peoplespledge.org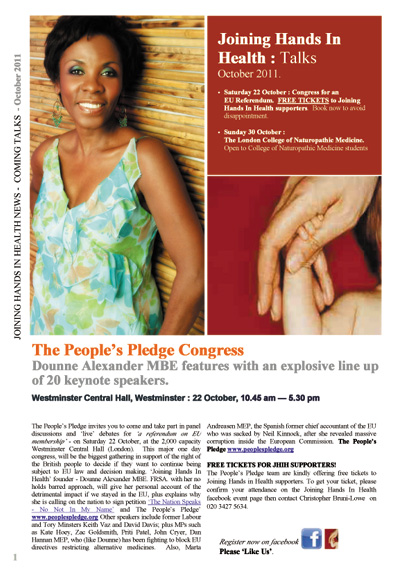 Free tickets are available to Joining Hands In Health supporters. If you are overseas, I would appreciate if you could kindly post this event on to friends in the UK who may be interested.
Please visit Event page to register your attendance